Protecting the Interests of Injured Georgia Motorcycle Riders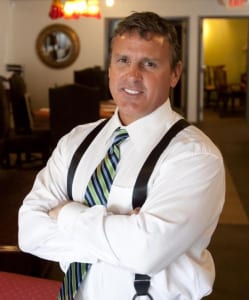 Motorcycle riders in Atlanta have the same rights as the drivers of other vehicles on our roads, and it is the responsibility of every driver to be aware and drive safely when sharing the road with motorcycles. But in a majority of cases, drivers report never seeing the motorcycle prior to the accident. When drivers fail in their responsibility and accidents occur, it can lead to serious injuries for motorcycle riders. That's why, at the W. Winston Briggs Law Firm our motto is "When They Don't See You, See Us!"
If you or someone you love has been seriously injured in an Atlanta motorcycle accident, make sure that your rights are represented by an attorney experienced in motorcycle accident claims. At the W. Winston Briggs Law Firm, we have represented motorcycle riders from all over Georgia who have suffered injuries due to the actions of irresponsible drivers.
Seeking the Right Compensation for Your Motorcycle Injuries
In an accident between a car and a motorcycle, there is a greater likelihood of serious injury to the motorcycle rider. Broken bones, traumatic brain and spine injuries are common outcomes. Our law firm has extensive experience with Atlanta motorcycle accident cases and will work hard to get you the care you need, and aggressively seek compensation for your property damage, lost wages and future medical care.
We have represented clients who have suffered all types of injuries in motorcycle accidents, including:
Broken bones
Head injuries
Traumatic brain injuries
Spinal cord injuries
Permanent scarring and disfigurement
Motorcycle accident attorney Winston BriggsIn the vast majority of cases, drivers report never seeing the motorbike prior to the crash. This type of negligence puts every rider in harm's way daily. When you hire our firm, we will do everything in our power to see that the driver who caused you serious injuries in the wreck is held fully accountable.
Call for a Free Consultation
If you'd like to schedule a free consultation with an Atlanta motorcycle accident lawyer at W Winston Briggs Law Firm, call (404) 522-1500 today or submit a contact form. We take most cases on a contingency basis, which means that you don't pay any attorney's fees unless we win compensation for you. We proudly serve the communities of Alpharetta, Gainesville, Kennesaw, Marietta, Smyrna and the greater metro Atlanta area.
Se habla Español.
Click Here for a Free Case Evaluation
Practice Areas
Suffering a serious injury due to another person's negligence can change your life in an instant. Without warning, you can be facing massive medical bills and find yourself unable to work. Once you have received medical care for your immediate injuries, it is important that you seek the advice of a reputable personal injury lawyer in Atlanta who can help you understand your rights.
Representing Georgia Accident Injury Victims
The Briggs Law Firm specializes in representing people and the families of people injured or killed due to the carelessness and recklessness of others. Our founder, W. Winston Briggs, has tried more than 200 jury trials in his 30 year career. Mr. Briggs is a skilled trial lawyer well known for his ability and willingness to try cases. That results in higher settlements to our clients because insurance companies recognize that Mr. Briggs is a seasoned and fearless litigator who will try cases if they don't pay the full value of the claim. If the case must be tried, there is no better firm to have on your side.
Winston and his team were the best I've ever dealt with. Honestly, I've hired many law firms in the past 10 years and no other law firm made me feel as important as Winston Briggs. To them I wasn't just another case, I was family and for that I'm forever grateful. They got me a settlement that I deserved and they fought tooth and nails to make sure I wasn't being taken advantage of. Nicole, kept me updated with my case's progress and anytime I had a question she was on it! I felt like I was the only client because of how personalized they made it feel. Best of the best hands down. Thank you once again for everything you did for my family and I!
After interviewing attorneys recommended by other cyclists, I engaged W. Winston Briggs as my attorney because he seemed to have the best grasp of my situation and because, of the attorneys I interviewed, Winston had the most litigation experience. Six months after the collision, we have received a policy limit settlement from the driver's insurance company, and Mr. Briggs has addressed the subrogation claim of my health insurance company, resulting in a substantial reduction of their claim.
The case required Mr. Briggs to make numerous trips to Virginia to take on the responsible parties on their home turf. Although it required significant effort, at the end of the day, Mr. Briggs successfully forced the responsible companies to accept responsibility for my husband's death and to pay a settlement that will take care of my son and me over the course of our lives. The event was tragic but I am very pleased that I hired Winston to represent me and my son in the case."
I injured myself requiring surgery when I fell at a hotel in New Orleans while on business. The insurance company for the hotel initially denied responsibility for my injury and then later offered me only a modest sum to settle the case, claiming there were multiple problems with my claim. I retained Winston Briggs to handle my claim and he did the rest. Without having to go through a lawsuit, Mr. Briggs convinced the hotel's insurance company to pay more than six times the amount they had offered me to settle the claim before I hired Mr. Briggs. I hope I never need his services again but, if I do, I wouldn't think of hiring any other attorney to represent me.
I am extremely pleased I hired The Briggs Law Firm and would highly recommend them to anyone who finds themselves in the position of needing a personal injury lawyer, and particularly, one who has been injured in a bicycle accident. Once the insurance carriers learned Mr. Briggs was my lawyer, they accepted responsibility for the accident and compensated me for my injuries.
To those injured; I'm writing to show everyone out there that Mr.Winston Briggs is here to help you. As he listened to my story I realized that he sincerely cared and knew that, even though the injury occurred, he was able to see forward and find ways to help. Winston through the years has demonstrated that he is on the cutting edge of injury recovery. He makes a painful process turn into a more profitable and emotional reward...
Attorney Briggs accepted my case, within a month the defendant was served, and less than a year my case was settled. To him I am indebted for his enthusiastic, encouragement and support he and his staff offered throughout the handling of my case. Unlike any other law firm, they continue to keep me in the loop on how my case progressed. I highly recommend Winston Briggs Law Firm to anyone looking for an attorney in Atlanta who cares and have integrity in his work getting the case settled, without a doubt, he's the Best!