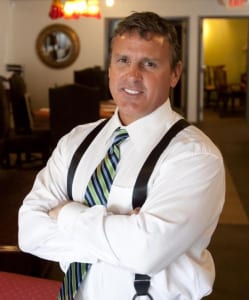 When you or a loved one has suffered from injuries as the result of a truck accident, it is imperative that the attorney you select to handle your claim has extended experience with cases involving these particular motor vehicles.
Early in his career, W. Winston Briggs was hired by insurance companies to defend trucking companies against trucking accident claims. Years later, he only represents people injured or killed in truck accidents. He knows both sides of the fence which greatly benefits his clients.
Today Winston Briggs has over 30 years of experience handling truck accident cases and tried more than 200 jury trials. He works hard to fight for the compensation you deserve following a truck accident.
Click Here for a Free Case Evaluation
Georgia Truck Accident and Wrongful Death Attorneys
When a life is lost due to truck driver or truck company negligence, members of the victim's family have the right to seek justice for their loved one and compensation for their loss.
At the W. Winston Briggs Law Firm, our Atlanta truck accident lawyer understands that there is no amount of compensation that can replace a life lost in a truck accident. However, taking action not only allows the victim's family to recover the numerous financial losses that come along with their loss, but to take measures that may prevent the negligent parties from ever doing harm again. Our lawyers are aggressive in these cases, taking every possible step to make certain that justice is served and that negligent parties are held accountable.
Causes of Truck Accidents
In an accident between a commercial truck and a passenger vehicle, the passenger vehicle is at huge risk of physical injury. With trucks often reaching 75 feet in length and weights of up to 80,000 pounds, the possibility of serious injury to other drivers or their passengers is extremely high.
The reason for the high number of truck accidents is due to three main events:
Running out of the travel lane, either off the road or into another lane.
Loss of control due to speeding, cargo shift, systems failure, poor road conditions, or other reasons.
Rear-end collisions with other vehicles, specifically in the truck's travel lane.
Driver fatigue
Also, there are many other factors that can contribute to the occurrence of the above events.
These include:
Unsafe operation of the truck by the driver
Poor truck maintenance
Inexperienced truck driver
Distractions while driving
Mechanical failure
Truck driver fatigue
Overloaded or improperly loaded trucks
Truck accidents cause over 4,800 fatalities across the United States each year. Adding to this high number of fatalities, another 100,000 individuals are
injured in truck accidents yearly.
Georgia Trucking Accident Attorney Holding All Negligent Parties Accountable
Briggs Truck accident cases can be quite complex because more than one party may share responsibility. Depending on the circumstances of your accident, the driver, the driver's employer, the company that maintains the truck, the manufacturer and others could all be held partially liable.
During our investigation of the truck accident, we will do the following to help determine negligent behavior:
Investigate if the vehicle was maintained properly.
Review the credentials of the truck driver.
Determine if local traffic laws were followed.
Review the trucking company log books to ensure that all regulations were properly followed.
Analyze the scene where the accident took place, examining police reports and photographs, and interviewing witnesses.
Try to identify any defects in the truck and the other vehicle involved in the accident.
Hire appropriate trucking, reconstruction and medical experts
Furthermore, in the state of Georgia, companies that operate tractor-trailers and other types of large trucks typically carry a large amount of insurance coverage. However, after a trucking accident, victims often must turn to other insurance as well as the tractor-trailers company's assets for compensation. Not surprisingly, these companies tend to seek to obtain the lowest settlement possible. That's why it is important to contact an experienced Atlanta tractor-trailer crash lawyer from the W. Winston Briggs Law Firm to ensure that you receive the maximum amount to which you are entitled.
Our firm is here to take care of your legal issues so that you may get back to what's most important, and sooner rather than later – recovering and returning to your day-to-day life.
The Truck Accident Lawsuit Process
We are committed to securing the full and fair compensation you need to recover from your injuries due to a truck wreck. When you hire our firm, we will do the following to make sure you receive maximum compensation for your injuries:
Investigate
Create Your Claim
Negotiate on Your Behalf
Litigation
Experienced truck accident attorney Winston Briggs will investigate the scene of the accident as well as all available evidence. This will need to be done immediately because the insurance company for the truck driver or trucking company owner will send analysts out to the scene as well. Their goal is to gather as much evidence in order to limit their potential liability.
Maximum Compensation for Your Injuries
A tractor-trailer crash can create life-changing injuries alongside significant financial losses to those involved and their loved ones. Crash victims have the right to seek compensation for damages, including:
Medical expenses
Lost wages
Pain and suffering
Funeral costs
Mental anguish
And other financial losses
If you or someone you know has been involved in a truck accident, contact the W. Winston Briggs Law Firm to schedule a free consultation with an Atlanta tractor-trailer wreck attorney.
In representing clients in all types of trucking accident cases, we look at:
Truck Accidents on Highways
Atlanta and the surrounding area are home to a number of major highways, including Interstate 75, I-85, I-285 and 400. These highways are frequently traveled by semi-trucks going across the state or across the country. As a result, they are also the location of a large number of the trucking accidents that occur in Georgia. If you have been injured in a truck accident on any Georgia highway, you should seek the advice of an experienced personal injury attorney.
Those responsible for truck accidents on Atlanta area highways must be held accountable for their negligence. At the W. Winston Briggs Law Firm, we provide aggressive representation to clients who have suffered serious injuries or wrongful death in a highway trucking accident.
Truck Company Negligence
While truck driver negligence is certainly the cause of many accidents, it is also quite possible that the trucking company itself is also culpable. At the W. Winston Briggs Law Firm, our truck accident investigations are comprehensive. We look at the actions of the driver as well as those of the companies that hired the driver and leased the truck.
Our Atlanta tractor-trailer injury lawyers have represented clients across Georgia and throughout the Southeast in catastrophic and fatal trucking crashes. We have experience handling commercial vehicle accident cases involving 18-wheelers, fifth-wheel tractor-trailers and other commercial vehicles on Georgia roads and highways.
Truck Driver Fatigue
It is no secret that truck drivers are under a lot of pressure to get their loads delivered on time. In many cases, the driver will deliberately violate federal regulations regarding the required amount of sleep to meet a deadline. When drivers make poor decisions such as these, it puts everyone on the road at risk.
When fatigued drivers cause serious accidents, their victims have the right to seek compensation for their injuries. At the W. Winston Briggs Law Firm in Atlanta, we represent clients in a wide variety of trucking accident cases. Our truck driver fatigue lawyers have the experience, the knowledge and the skill to help you reach a positive outcome.
Unsecured Loads
The process of loading a truck is extremely complex and must be done in a way that ensures the load is secure. There is a lot more to it than just loading up the trailer and tying down the cargo with a strap. Improperly secured loads can shift or come loose and lead to serious accidents.
It is the responsibility of the people on the loading dock as well as the driver to ensure that the truck is loaded in a way that ensures safe transport from start to finish. When mistakes are made and accidents happen as a result, injury victims have the right to seek damages from the negligent parties.
What to Do After a Truck Accident
Step 1: Get Medical Attention
If you or someone you care about has been involved in a truck accident, the first priority should be to get medical attention. Obviously, getting treatment and recovering from injuries is extremely important, but prompt medical attention is critical for another reason as well. The documentation of injuries created by the doctor will be evidence in the personal injury case.
Step 2: Get a Truck Accident Lawyer
Truck companies take immediate action to protect themselves after an accident. They will often have people at the scene within hours of the trucking accident taking place. What are they doing? Building a case that will protect them from having to provide you compensation.
By getting an injury attorney on your side at the start, you can protect yourself. At the W. Winston Briggs Law Firm in Atlanta, we take immediate action, quickly beginning the investigation of a truck accident. We will make certain that the truck accident scene is documented. We will strive not allow skid marks to be washed away or the accident scene to be cleaned up before a proper investigation is conducted. We will interview witnesses while the accident is fresh in their mind. We will recover evidence from the truck before it can be pulled from our grasp by the trucking company.
Step 3: When the Insurance Company Calls, Do Not Talk
Briggs Winston The truck company's insurance company will call you. A statement may be requested. A settlement may be offered. Do not talk to the insurance agent without talking to us first. The agent's job is to minimize the amount of compensation paid out, and the steps taken are not in your best interest. What you say or do now could prevent you from getting all of the compensation you need.
Justice for You and Your Family
Briggs Winston In fatal truck accident cases, we pursue a wrongful death claim, which is different than a personal injury claim. This type of claim allows us to pursue compensation for funeral costs. It also allows us to pursue compensation for the loss of financial support the victim would have provided to his or her family if the accident would not have happened.
Our attorneys will work with economists as necessary to calculate what the victim's wages would have added up to if he or she would have remained in the workforce. This is money that would have been used to put meals on the table, to buy clothes, to fund college educations and retirement accounts, and much more. This is money that was taken away from a spouse and children because of an act of negligence. Our goal is to make certain that compensation covers this loss.
Call For A Free Consultation
Recently, Winston recovered a large lump sum payment and monthly benefits for the widow and son of the victim of a truck accident. View all of Winston's personal injury case results. Call our office today to discuss your trucking accident injuries and learn more about your legal options.
You can reach us by phone via e-mail to discuss your claim with an experienced Atlanta tractor-trailer crash attorney. We take most cases on a contingency basis, which means that you don't pay any attorney's fees unless we win compensation for you.
Truck Accident FAQ's
Who can be sued in a truck accident case?
The possible parties that can be sued include the driver, the owner of the trucking company, the owner of the tractor or trailer, and in some cases the loading facility that placed contents in the trailer or the owner of the contents that were placed in the trailer.
Why is it important for me to obtain a copy of the truck driver's log following an accident?
Truck drivers are only allowed to drive a certain number of hours per day and required to perform pre-trip vehicle inspections. Establishing the fact that the log was kept properly or not is important for evaluating if violation of the law helped contribute to the accident.
What other information should I obtain to support my potential claim?
You should take pictures of the accident, your injuries, and even documents. Make sure you get the names of contact information of any witnesses and people at the scene of the accident. This is because evidence can be lost or destroyed in a short period of time.
What are common injuries caused by truck accidents?
Common injuries caused by truck accidents can include death, concussions, broken bones, brain injuries, spinal injuries, loss of limbs, chronic back pain, whiplash, herniated neck discs, fractures, burns, and more.How soon after the truck accident should I contact a lawyer?
How soon after the truck accident should I contact a lawyer?
It is best to contact an attorney as soon as possible. You can be certain that the trucking company will have analysts on the scene immediately. Therefore, you need an attorney to conduct an investigation on your behalf before any helpful evidence is lost or destroyed
Call for a Free Consultation
If you'd like to schedule a free consultation with an Atlanta truck accident lawyer at W Winston Briggs Law Firm, call (404) 522-1500 today or submit a contact form. We take most cases on a contingency basis, which means that you don't pay any attorney's fees unless we win compensation for you. We proudly serve the communities of Alpharetta, Gainesville, Kennesaw, Marietta, Smyrna and the greater metro Atlanta area.
Se habla Español.
Click Here for a Free Case Evaluation
Related Videos
Practice Areas
Suffering a serious injury due to another person's negligence can change your life in an instant. Without warning, you can be facing massive medical bills and find yourself unable to work. Once you have received medical care for your immediate injuries, it is important that you seek the advice of a reputable personal injury lawyer in Atlanta who can help you understand your rights.
Representing Georgia Accident Injury Victims
The Briggs Law Firm specializes in representing people and the families of people injured or killed due to the carelessness and recklessness of others. Our founder, W. Winston Briggs, has tried more than 200 jury trials in his 30 year career. Mr. Briggs is a skilled trial lawyer well known for his ability and willingness to try cases. That results in higher settlements to our clients because insurance companies recognize that Mr. Briggs is a seasoned and fearless litigator who will try cases if they don't pay the full value of the claim. If the case must be tried, there is no better firm to have on your side.
Winston and his team were the best I've ever dealt with. Honestly, I've hired many law firms in the past 10 years and no other law firm made me feel as important as Winston Briggs. To them I wasn't just another case, I was family and for that I'm forever grateful. They got me a settlement that I deserved and they fought tooth and nails to make sure I wasn't being taken advantage of. Nicole, kept me updated with my case's progress and anytime I had a question she was on it! I felt like I was the only client because of how personalized they made it feel. Best of the best hands down. Thank you once again for everything you did for my family and I!
After interviewing attorneys recommended by other cyclists, I engaged W. Winston Briggs as my attorney because he seemed to have the best grasp of my situation and because, of the attorneys I interviewed, Winston had the most litigation experience. Six months after the collision, we have received a policy limit settlement from the driver's insurance company, and Mr. Briggs has addressed the subrogation claim of my health insurance company, resulting in a substantial reduction of their claim.
The case required Mr. Briggs to make numerous trips to Virginia to take on the responsible parties on their home turf. Although it required significant effort, at the end of the day, Mr. Briggs successfully forced the responsible companies to accept responsibility for my husband's death and to pay a settlement that will take care of my son and me over the course of our lives. The event was tragic but I am very pleased that I hired Winston to represent me and my son in the case."
I injured myself requiring surgery when I fell at a hotel in New Orleans while on business. The insurance company for the hotel initially denied responsibility for my injury and then later offered me only a modest sum to settle the case, claiming there were multiple problems with my claim. I retained Winston Briggs to handle my claim and he did the rest. Without having to go through a lawsuit, Mr. Briggs convinced the hotel's insurance company to pay more than six times the amount they had offered me to settle the claim before I hired Mr. Briggs. I hope I never need his services again but, if I do, I wouldn't think of hiring any other attorney to represent me.
I am extremely pleased I hired The Briggs Law Firm and would highly recommend them to anyone who finds themselves in the position of needing a personal injury lawyer, and particularly, one who has been injured in a bicycle accident. Once the insurance carriers learned Mr. Briggs was my lawyer, they accepted responsibility for the accident and compensated me for my injuries.
To those injured; I'm writing to show everyone out there that Mr.Winston Briggs is here to help you. As he listened to my story I realized that he sincerely cared and knew that, even though the injury occurred, he was able to see forward and find ways to help. Winston through the years has demonstrated that he is on the cutting edge of injury recovery. He makes a painful process turn into a more profitable and emotional reward...
Attorney Briggs accepted my case, within a month the defendant was served, and less than a year my case was settled. To him I am indebted for his enthusiastic, encouragement and support he and his staff offered throughout the handling of my case. Unlike any other law firm, they continue to keep me in the loop on how my case progressed. I highly recommend Winston Briggs Law Firm to anyone looking for an attorney in Atlanta who cares and have integrity in his work getting the case settled, without a doubt, he's the Best!