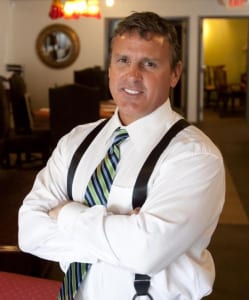 The loss of a loved one can be devastating, but you have the right to seek justice. The Atlanta Law Firm of W. Winston Briggs represents families of wrongful death victims. A wrongful death claim arises when a person is killed as the result of someone's negligent.
Our firm's experienced wrongful death attorneys are determined to help you recover the compensation needed to ease any financial burdens during this hard time.
While no amount of compensation can replace a loved one, Georgia wrongful death laws are designed to help victims of a wrongful death regain stability after an accident.
Click Here for a Free Case Evaluation
What is Wrongful Death?
Wrongful death is defined as the loss of a life due to another individual's negligent or deliberate behavior. These types of lawsuits seek to hold another party accountable for avoidable loss of life. Attorney W. Winston Briggs has over 30 years of experience advocating on behalf of families who have been emotionally and financially affected by a wrongful death.
Some common examples of situations that can give rise to wrongful death claims include:
Auto accidents
Motorcycle accidents
Trucking accidents
Medical malpractice
Defective products
Dangerous drugs
Construction accidents
Inadequate security
These are only a few examples, as a wrongful death action can be based on just about any types of negligent act which results in the death of an innocent individual.
Who Recovers for Wrongful Death Claims?
The party entitled to recover in a wrongful death case depends on who survives the wrongful death victim (referred to as the "decedent"). According to Georgia's wrongful death laws, if the decedent is survived by a spouse, the surviving spouse may seek to recover wrongful death damages on behalf of the spouse and any surviving children. If there is no surviving spouse, the children of the decedent may assert the claim. If the decedent is not survived by a spouse or any children, the surviving parents or parent may file the lawsuit for wrongful death. If no spouse, child, or parent survives the decedent, other legal rules specify who may bring the claim. The W. Winston Briggs Law Firm lawyers can explain how these rules apply to your case.
What is Needed to Have a Valid Wrongful Death Claim?
It is impossible for any wrongful death attorney to promise a successful outcome of your claim. Though, there are some elements required to have a valid wrongful death claim. For your case to be successful, it will require the following:
Proof the death resulted from the incident being questioned.
You must have evidence to prove that your loved one's death was caused by the negligence of another party.
You must prove that your loved one's death had an effect on you and/or other members of the family.
Proof the death must have caused financial hardship on their loved ones, or survivors.
Proof of the value of the decedent's life from the decedent's point of view.
Our Atlanta wrongful death attorneys work hard to determine the most important elements of your specific claim. We do so through the investigation of what caused the death of your loved one, including the examination of police reports, witness interviews, and physical evidence. We also employ appropriate experts necessary to win the case. With this information, W. Winston Briggs will establish a convincing case on you and your family's behalf. We do all that it takes to prove that the defendant is at fault for the death of your loved one.
What Types of Damages are Recoverable in Wrongful Death Cases?
In wrongful death cases, separate items of damages are legally recoverable. The surviving heirs (spouse, children, parents, etc.) are entitled to assert the claim for the wrongful death of the decedent. In Georgia, such a claim includes the value of the decedent's life itself, including the loss of income over the course of the decedent's life. Under Georgia law, the measure of damages for wrongful death is the full value of the life of the deceased, which is measured from the perspective of the decedent. Damages for "the full life of the decedent" includes both economic damages (projected lifetime income, with no deduction for living expenses or income taxes, value of services, etc.) as well as intangible factors such as the enjoyment of the experience of living.
The "full value of the life" is determined solely by the enlightened conscience of an impartial jury. Georgia imposes no statutory formula or arbitrary limit on the damages awarded in a wrongful death case. The economic component of the value of the life may be reduced to present value under Georgia wrongful death law, but the intangible aspects of the value of the life are not reduced to present value.
In addition to the wrongful death claim that can be asserted by the surviving heirs, the estate of the decedent can also assert claims on behalf of the decedent. The decedent's estate is entitled to recover for any medical costs, funeral costs, and the pain and suffering of the decedent, if any, before they died. Of course, many times the administrator or personal representative of the estate will be one and the same person as the surviving heir, so the same person is entitled to assert both the wrongful death claims and the claims for pain and suffering.
How Is a Recovery Split in a Wrongful Death Case?
Georgia law controls how a jury award or pretrial settlement in a wrongful death case must be dispersed. Such recoveries generally must be split equally among the surviving spouse and children. If the children are minors, a guardian must be appointed who will legally hold the funds for them until they reach majority or until disbursement has otherwise been approved by the
What Happens in a Wrongful Death Lawsuit?
First off, our firm determines whether your claim is viable. Second, in order to prove negligence, we will show that the responsible party owed the deceased a duty to prevent him or her from harm, and that such duty was broken. For example, a doctor is obligated to provide his or her patients with a particular level of care. If the doctor fails to do so, and the patient passes away, the doctor can be found negligent and hold accountable for wrongful death. Third, we will establish that this breach of duty contributed to the innocent individual's death. Lastly, our experienced wrongful death attorneys will provide evidence that the family of the deceased loved one suffered damages as a result of their death, including both financial and emotional damages.
If you feel that your loved one suffered from a wrongful death, W. Winston Briggs may be able to help you receive compensation due to another person's negligent actions. Once our firm has received all evidence, we will be able to explain the process to you and the damages that may be recovered.
Why Choose the W. Winston Briggs Law Firm to Handle Your Wrongful Death Case?
Winston Briggs has represented many clients with wrongful death claims in his more than 25 year career. Recently, he recovered millions of dollars for the husband of a woman who passed away from an ectopic pregnancy. You can view more results of his personal injury cases here. The W. Winston Briggs Law Firm lawyers have more than 25 years of experience in successfully handling Atlanta wrongful death cases. Georgia wrongful death law is complicated and requires highly-qualified, experienced attorneys. The types of wrongful death claims successfully pursued by the firm's lawyers include:
Auto accidents
Trucking accidents
Pedestrian accidents
Medical negligence
On-the-job accidents
Toxic exposure cases
DUI cases
Construction accidents
Brain injury cases
In addition to having the experience to handle your case, the attorneys at the W. Winston Briggs Atlanta Law Firm are fully prepared to try cases before juries if the defense refuses to settle the death claim for its full value. Attorney Winston Briggs has tried more than 200 jury trials and is known as a lawyer who is willing to try cases. During this difficult time, count on the law firm of W. Winston Briggs to advocate for the compensation owed to you and your family.
Wrongful Death FAQ's
How is the amount of damages determined in a wrongful death case?
Several things are considered, such as the decedent's life before death including their enjoyment of life, their contributions in the past, their life expectancy at the time of their passing, their health before the accident occurred, their age, their habits, their occupation, and their past and future earnings.
How soon after the death does the claim need to be filed?
In the state of Georgia, wrongful death lawsuits must be filed within two years of the death. Once this period of time expires, the victim's family will be barred from taking legal action for their losses. However, in some cases, this time period may be extended or shortened.
How long does it take to settle a wrongful death case?
With wrongful death cases, it is not easy to predict how long it will take, as many factors come into play. Much depends upon whether the case can be settled without suit or whether a lawsuit must be filed to obtain a full and just recovery. Working with our firm, we will work hard to help you recover your losses and move forward with your life as soon as possible after the incident.
Must the settlement be shared amongst all relatives?
Potentially. State law, along with other documents signed by relatives and the type of action filed, would determine the obligation the relatives filing the lawsuit have in sharing the settlement.
How soon should I contact an attorney?
It is best to contact an attorney immediately following the accident. This is important because witnesses need to be interviewed and photographs need to be obtained. If not done so soon, witnesses can forget important details or evidence of the incident can be lost or destroyed. A skilled wrongful death attorney will handle those details on your behalf and make sure your rights are protected and preserved.
Call for a Free Consultation
If you'd like to schedule a free consultation with an Atlanta wrongful death lawyer at W Winston Briggs Law Firm, call (404) 522-1500 today or submit a contact form. We take most cases on a contingency basis, which means that you don't pay any attorney's fees unless we win compensation for you. We proudly serve the communities of Alpharetta, Gainesville, Kennesaw, Marietta, Smyrna and the greater metro Atlanta area.
Se habla Español.
Click Here for a Free Case Evaluation
Practice Areas
Suffering a serious injury due to another person's negligence can change your life in an instant. Without warning, you can be facing massive medical bills and find yourself unable to work. Once you have received medical care for your immediate injuries, it is important that you seek the advice of a reputable personal injury lawyer in Atlanta who can help you understand your rights.
Representing Georgia Accident Injury Victims
The Briggs Law Firm specializes in representing people and the families of people injured or killed due to the carelessness and recklessness of others. Our founder, W. Winston Briggs, has tried more than 200 jury trials in his 30 year career. Mr. Briggs is a skilled trial lawyer well known for his ability and willingness to try cases. That results in higher settlements to our clients because insurance companies recognize that Mr. Briggs is a seasoned and fearless litigator who will try cases if they don't pay the full value of the claim. If the case must be tried, there is no better firm to have on your side.
Winston and his team were the best I've ever dealt with. Honestly, I've hired many law firms in the past 10 years and no other law firm made me feel as important as Winston Briggs. To them I wasn't just another case, I was family and for that I'm forever grateful. They got me a settlement that I deserved and they fought tooth and nails to make sure I wasn't being taken advantage of. Nicole, kept me updated with my case's progress and anytime I had a question she was on it! I felt like I was the only client because of how personalized they made it feel. Best of the best hands down. Thank you once again for everything you did for my family and I!
After interviewing attorneys recommended by other cyclists, I engaged W. Winston Briggs as my attorney because he seemed to have the best grasp of my situation and because, of the attorneys I interviewed, Winston had the most litigation experience. Six months after the collision, we have received a policy limit settlement from the driver's insurance company, and Mr. Briggs has addressed the subrogation claim of my health insurance company, resulting in a substantial reduction of their claim.
The case required Mr. Briggs to make numerous trips to Virginia to take on the responsible parties on their home turf. Although it required significant effort, at the end of the day, Mr. Briggs successfully forced the responsible companies to accept responsibility for my husband's death and to pay a settlement that will take care of my son and me over the course of our lives. The event was tragic but I am very pleased that I hired Winston to represent me and my son in the case."
I injured myself requiring surgery when I fell at a hotel in New Orleans while on business. The insurance company for the hotel initially denied responsibility for my injury and then later offered me only a modest sum to settle the case, claiming there were multiple problems with my claim. I retained Winston Briggs to handle my claim and he did the rest. Without having to go through a lawsuit, Mr. Briggs convinced the hotel's insurance company to pay more than six times the amount they had offered me to settle the claim before I hired Mr. Briggs. I hope I never need his services again but, if I do, I wouldn't think of hiring any other attorney to represent me.
I am extremely pleased I hired The Briggs Law Firm and would highly recommend them to anyone who finds themselves in the position of needing a personal injury lawyer, and particularly, one who has been injured in a bicycle accident. Once the insurance carriers learned Mr. Briggs was my lawyer, they accepted responsibility for the accident and compensated me for my injuries.
To those injured; I'm writing to show everyone out there that Mr.Winston Briggs is here to help you. As he listened to my story I realized that he sincerely cared and knew that, even though the injury occurred, he was able to see forward and find ways to help. Winston through the years has demonstrated that he is on the cutting edge of injury recovery. He makes a painful process turn into a more profitable and emotional reward...
Attorney Briggs accepted my case, within a month the defendant was served, and less than a year my case was settled. To him I am indebted for his enthusiastic, encouragement and support he and his staff offered throughout the handling of my case. Unlike any other law firm, they continue to keep me in the loop on how my case progressed. I highly recommend Winston Briggs Law Firm to anyone looking for an attorney in Atlanta who cares and have integrity in his work getting the case settled, without a doubt, he's the Best!