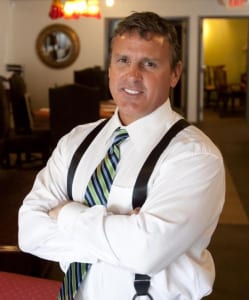 Slips and falls may not sound serious, but they can, in fact, have far-reaching consequences and take a huge toll on the injured party's health.
That's why it's important for property managers to maintain the areas they own. It's up to them to protect their customers and people passing by from falling and getting injured. And if they fail to uphold this duty, and you fall and hurt yourself, then you could possibly sue them for damages.
What Is Premises Liability?
Premises liability is the legal concept that a person has a reasonable expectation not to get injured when they go on someone's property. If there is an unsafe condition on the property that the owner (or tenant) should have taken care of, then a person can hold the owner (or tenant) legally accountable should they get injured.
There are different types of situations where premises liability can be used in a case. They include: Slip and falls, Dangerous property, Retail store and restaurant liability, Dog and animal bites, Negligent security and Inadequate maintenance.
The defendant could be the property owner or the tenant on a property. It all depends on the circumstances of the case.
For example, if a customer walked into a store and slipped and fell because the floor was wet and there was no signage saying so, then the tenant, or the storeowner, could potentially be held responsible.
But on the other hand, if a customer was outside of a store and tripped and fell on the broken concrete at the entrance, then the property owner could possibly be held liable.
What to Do After a Slip & Fall Accident
Immediately after you've been involved in a slip, or trip, and fall accident, it is imperative you do the following in order to prove that the property owner was negligent:
Take photographs of the dangerous condition and your injuries.
Fill out an incident report, or written documentation.
Obtain the name(s) of the property owner(s) who were present.
Reach out to witnesses for a statement.
Seek medical treatment.
Contact experienced Atlanta slip and fall attorney W. Winston Briggs.
It is extremely important that you contact an attorney after you have been the victim of a slip, or trip, and fall accident. This is because witnesses will oftentimes forget all of the necessary details to prove that the property owner was negligent or over a period of time additional details are at risk of being lost or destroyed.
Causes of Slip, Trip and Fall Accidents
Many types of slip, trip and fall accidents can be caused by the following:
Poorly aligned sidewalks
Broken steps or platforms
Inadequate lighting
Food or foreign substances
Icy sidewalks or stairways
Loose rugs or carpeting
Debris or obstacles
Loose handrails
In most slip and fall cases, those injured suffer from back injuries. This type of injury is the most difficult to diagnose and treat, especially when the severity of this injury does not become apparent right away, but months down the road. As with any personal injury claim, the victim has the potential to become compensated for the following:
Lost wages or loss of income.
Medical bills
Pain and suffering
Be sure to keep records of all your medical bills and supporting documentation for these types of claims. In Georgia, there is a limit to the length of time you are able to file a slip, or trip, and fall lawsuit. Due to the complexity of these cases, it is important to contact an experienced Atlanta slip and fall attorney from our firm to assist you in proving your claim for compensation for your injuries.
Proving Negligence in a Slip and Fall Case
In order for a premises liability case to go through, it is on the plaintiff to prove negligence. They have to prove that: The store owner or property manager (defendant) had a duty to you, the customer or passerby (plaintiff); The defendant knew about or should have known about a hazardous condition and did not take care of it in a reasonable amount of time; Since the defendant did not take care of it, you slipped and fell or You have suffered as a result of the slip and fall, becoming injured and having to pay for damages.
In order to prove a slip and fall case, you'll need evidence such as photographs of your injuries, damage to your personal belongings and the scene where the incident occurred, witness statements, a statement or form you filled out and gave to the store manager/property owner, copies of your medical records and possibly video surveillance footage if the fall was caught on tape.
You don't need all of these elements. A personal injury attorney can help you gather your evidence and collect your medical records and video footage, for example, so that you can relax and ensure you're healing from your accident.
Damages in a Slip and Fall Case
When you file your lawsuit, you'll claim damages that the defendant owes you. Damages could include things like: Medical expenses, Lost wages, Damage to your personal belongings, Pain and suffering, Loss of enjoyment and/or Punitive damages.
Medical expenses would include any bills that you paid to the hospital or doctors who treated your injuries. Lost wages would apply if you had to take any time off work in order to go in for treatment. If something on you was damaged – like your purse or backpack – then you could claim damages for your belongings.
If the injury caused you to have to give up your career or your hobbies, you may be able to claim pain and suffering and loss of enjoyment. And if the negligence was very egregious, then punitive damages may apply as well. For example, if a piece of the roof was obviously about to break off of a building for many months, other people complained and the property owner didn't fix it, then punitive damages may become part of the lawsuit.
What to Do if You Slip and Fall
If you slip and fall when you are out and about, then you should get up slowly in case you are seriously injured. If you can't get up, alert someone nearby and/or call an ambulance. If your injury isn't that serious, then take photographs of the area and the object, if there was one, that caused you to become injured. Take photographs of your injury if it's visible, and then note if there are any security cameras around that caught what happened. If there were witnesses, ask them for statements, and alert the store manager or property owner that you fell and file a report with them. Get the name of the store manager or property owner, too. Keep in mind that if you were distracted when you fell, then you might not be able to file a slip and fall lawsuit because it could be determined that it was your fault you got injured.
Once you're done collecting evidence, go to the nearest hospital to get checked out. Let the doctor know about areas where you're experiencing pain, and ask them to take X-rays to ensure you didn't break anything.
If your doctor gives you medication, take it in the proper manner, and if they send you to specialists, go to your appointments. If you fail to take care of yourself and your injury, then the defendant could use that against you.
If at any point the defendant's insurance company contacts you to offer you a settlement, don't accept it. The settlement is going to be too low and it will likely not cover all of your damages. If you accept it right away, you will not be able to pursue further damages later on. Also, don't give the insurance company too many details or else they may try to say that you caused the accident.
Instead of dealing with the insurance company, contact a personal injury attorney. They will negotiate with the insurance company for you and attempt to get you the highest settlement reward possible. Then, you can pay for your bills and do what matters most: Focus on your health and getting better.
Georgia Premises Liability Attorney Holding All Negligent Parties Accountable
These cases can be complex. In order to be successful, we need to prove that there was something the property owner could have done to prevent the accident. For example, if a visitor to a grocery store slipped on a spill, we have to be able to prove that the spill was present long enough for the store to be aware of it and to address it, and that they simply failed to do so. With more than 30 years of experience, we know how to handle these cases.
We handle all types of premises liability cases, including:
Falling accidents
Slip-and-fall accidents
Inadequate security
Swimming pool accidents
Dog bites and animal attacks may also be considered premises liability claims if they take place on the dog owner's property.
Swimming Pool Accident
Backyard swimming pools are what is referred to as an attractive nuisance. Children see pools and they want to swim. For that reason, property owners should take measures to prevent neighborhood children from accessing the pool. The easiest way to do this is to install fencing around the backyard or around the pool itself.
Briggs Winston If a property owner fails to take the necessary measures to keep children away from the attractive nuisance, the result could be a drowning accident, a slip-and-fall accident or a diving accident that results in spinal cord injuries or other catastrophic injuries. The property owner should be held responsible for these serious injuries.
Contact a Personal Injury Attorney in Georgia
If you'd like to schedule a free consultation with an Atlanta slip and fall accident lawyer at W Winston Briggs Law Firm, call (404) 522-1500 today or submit a contact form. We take most cases on a contingency basis, which means that you don't pay any attorney's fees unless we win compensation for you. We proudly serve the communities of Alpharetta, Gainesville, Kennesaw, Marietta, Smyrna and the greater metro Atlanta area.
Se habla Español.
Click Here for a Free Case Evaluation